Our Services
Nessley's Lawn Care provides more than just weekly lawn maintenance. Please consider us when in need of any of the following services.
We serve Fairfield County, Lancaster OH.
Professional Mowing

We welcome the opportunity to provide full maintenance service. We offer 4-season lawn care from basic lawn mowing to full landscape maintenance. However, if all you need is a company to mow the yard, we are happy to help.

Standard service includes mowing the entire yard, line trimming (weed eating) around all trees, posts, fencing, etc., edging all sidewalks, patios and driveways, and clean up of all clippings. We mulch as it is much better for the lawn. When necessary, grass clippings are bagged and removed from the property.
Mulching and Bed Maintenance

It is great to have landscaping that requires minimal maintenance. However, your investment and beautiful landscape can quickly disappear if not consistently maintained. Nessley's Lawn Care can help.

Through proper weeding and mulching, you can extend the life of you plants, require less overall maintenance, and save money in the long run.Mulching also provides a beautiful contrasting curb appeal. We are happy to provide all of your mulching needs. You just can't go wrong with proper mulching.
Fall and Spring Cleanup
Hate raking leaves or hauling debris? Leave it to us. No matter what season, we can clean up that yard and leave it looking great. Reasonable rates!
Seasonal Plantings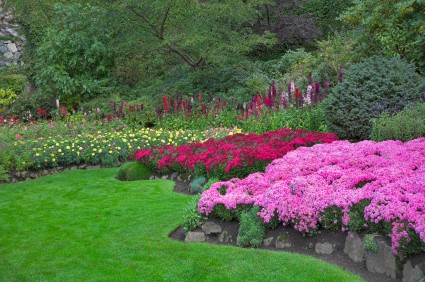 Add seasonal color and inspiration to your garden or landscape setting. Summer annuals can add a vibrant display to perennial borders and terrace containers. Using our horticultural expertise, we will work with you to select the perfect palette of container and border plantings that fit your personality and home style for every season.
Many gardens are designed with seasonal plantings in mind. We strive to compliment the existing landscape with fresh perennials and annuals that will flourish with little care and abundant seasonal enjoyment.
Landscape Design and Installation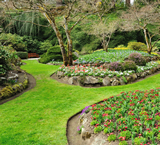 Experts say remodeling a master bathroom or kitchen can potentially return big dividends at the time of sell. According to Money Magazine, professional landscaping can return up to 200% of the original investment when you sell your property.
Call us to today to enjoy the beauty of a landscaped yard by Nessley's Lawn Care. We will design the landscape to your specifications and professionally install it with minimal inconvenience to you.
Storm Damage and Debris Clean UP
We will help you clean up and clear the mess left behind after bad weather and help you get things looking right again!
Shrub and Hedge Trimming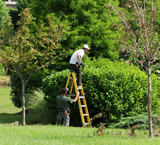 Mowing the yard is only half the challenge. Bushes that are not consistently maintained hurt the appearance of even the best-kept property.
We will leave your bushes looking beautiful and designed just how you like.
Concerned we do not offer the service you seek? Call us; we are happy to recommend service providers that maintain the same standards we do.
Do you need property maintenance for a commercial property? Nessley's Lawn Care can establish a budget and remain within it. All costs are known. There are no hidden or indirect charges. With our safety practices, training procedures and comprehensive insurance, we will nearly eliminate your exposure to liability as a result of careless or abusive use of equipment or chemicals.
Nessley's Lawn Care strives to be a one-stop 'Outdoor Service Provider'. We provide all types of service from lawn care to snow removal. If your outdoor services are not currently managed by one service provider, let us show you the return on investment (ROI) earned by switching to Nessley's Lawn Care. We solely focus on grounds maintenance so you can focus on your business.
Property managers love us because we make their job easy.
Call today to see if Nessley's Lawn Care is the right service provider for you! 740-243-8180